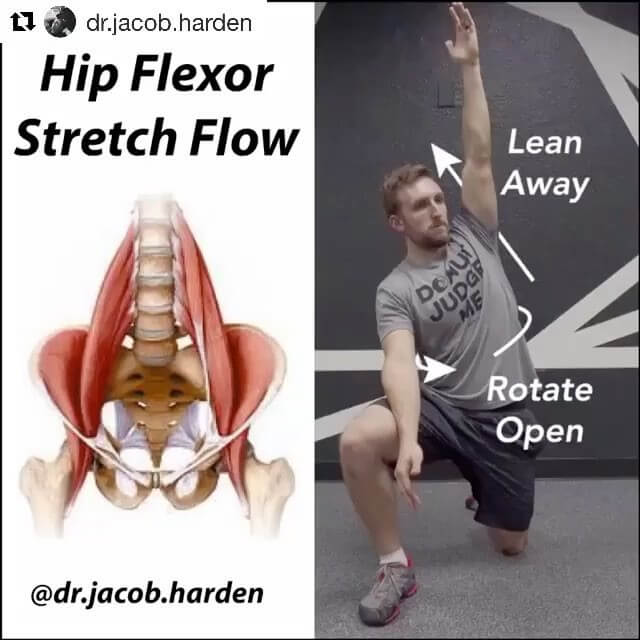 @dr.jacob.harden highlighting the importance of posteriorly tucking your pelvis to fix it in position while extending the femur. This really makes all the difference when trying to combat tight flexors to reduce back & hamstring injuries. Read on for the expert advice
•
Repost @dr.jacob.harden
・・・
IMPROVE YOUR HIP FLEXOR MOBILITY
Yesterday I showed you a common hip flexor stretch that most people ???? shouldn't be doing. So today let's throw out the alternative.
This hip flexor flow takes you through ↔ stretches for the iliopsoas, adductors, and rectus femoris. You can do any of these statically or dynamically. Whichever you prefer.
The ???? key to targeting the hip flexors is to pull your pelvis back into a posterior tilt and squeeze the glute throughout all movement. This helps you build active hip extension while improving the hip flexor mobility. If you find that you can't squeeze the ???? glute, you are likely too deep into the stretch and need to back out.
Get moving and get those hip flexors loosened up. Tag a friend who needs this flow and share the wealth!
.
???? – IMAGINE DRAGON – Believer (Kylem remix)
.
#MyodetoxOrlando #Myodetox #FutureproofYourBody #fitspo #justdoit #doyoueven #bossman #shredded #fitfam #dubaifitfam #igfitness #mydubai #preworkout #shesquatsbro #muscle #livefit #Gymmeme #shredz #Girlswholift #Girlswithmuscle #swolegirlsunited #gymmemes #legionofboom #goals #bodybuilding #gymlooks #consistencyperseveranceprogress #ThePTCBlog #thephysicaltrainingcompany